My True Love Gave To Me: Twelve Holiday Stories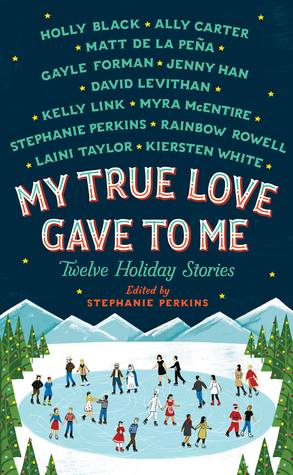 If you love holiday stories, holiday movies, made-for-TV-holiday specials, holiday episodes of your favorite sitcoms and, especially, if you love holiday anthologies, you're going to fall in love with MY TRUE LOVE GAVE TO ME: TWELVE HOLIDAY STORIES by twelve bestselling young adult writers, edited by international bestselling author Stephanie Perkins.
My Review:
12 Short Stories by different authors, so of course there are hits and misses!
Midnights by Rainbow Rowell – LOVE. Of course, it's written by RR and I've yet to find anything of hers I don't love. The format is fun and interesting, the characters are realistic and grab you immediately. One of my favorite stories in the book. Strong start! 4.5 stars
The Lady and the Fox by Kelly Link – not really my type of story, but it was entertaining and held my interest. I don't regret spending time reading it, and Link has a style of writing I really like. 3.5 stars
Angels in the Snow by Matt de la Pena – I actually really liked this story! I didn't expect to enjoy it, but the writing felt real. I liked the characters, and while the story seemed a little generic, I liked it a lot. Probably one of my favorites. 4 stars
Polaris is Where You'll Find Me by Jenny Han – not what I was expecting! A story of unrequited love between a human and en elf – but I totally enjoyed it! The story was silly and fun, and I always like Han's work. 3.5 stars
It's A Yuletide Miracle, Charlie Brown by Stephanie Perkins – I loved this story! It's one of the more realistic stories in this collection. This is the first piece of writing I've read by Perkins, and I wasn't disappointed. The characters were realistic, the story was original, and the dialogue was fun. 4 stars
Your Temporary Santa by David Levithan – I didn't love this story. It was fun enough, but I'm not usually a fan of Levithan's work and this didn't change my mind. The main character seems a little clingy and self-involved, but I liked the underlying storyline. 2 stars
Krampuslauf by Holly Black – I really didn't like this story. If you like books with a mystical element, including characters that are half-goat and such, you'll enjoy this. Not my style. 1 star
What the Hell Have You Done, Sophie Roth? by Gayle Forman – loved it! I fell in love with the characters, and the story developed perfectly! Another winner from Forman. A favorite from this collection! 4 stars
Beer Buckets and Baby Jesus by Myra McEntire – liked it, but didn't expect to! This story grabbed my attention with the first line, and it held it to the end! The characters are realistic, the story is funny and original, and the writing is spot on. It had me laughing a lot. A favorite! 4 stars
Welcome to Christmas, CA by Kiersten White – I liked this story. It seemed a little long and some parts were slow moving, but I liked it all by the end. Predictable, but a good story. 3.5 stars
Star of Bethlehem by Ally Carter – one of the longer stories. I enjoyed it. Most people will figure out the ending, but it's an original holiday story with a fun twist. 3.5 stars
The Girl Who Woke the Dreamer by Laini Taylor – I REALLY didn't like this story. I seriously considered not finishing the book, but I pushed through it. I'm not a fan of magical or mythological creatures as characters, so this story wasn't for me. It seemed to be one of the longest stories, too. One of my least favorite. 1 star
As a collection, I found more winners than losers. There's something for everyone in this book, so I suggest you get a copy and pick out your favorites! It would also make a great gift for the holiday reader in your life. My True Love Gave to Me releases in Hardback and eBook form on October 14.
(I received a digital ARC of this title in exchange for my honest review.)
Publisher Info:
If you love holiday stories, holiday movies, made-for-TV-holiday specials, holiday episodes of your favorite sitcoms and, especially, if you love holiday anthologies, you're going to fall in love with My True Love Gave to Me: Twelve Holiday Stories by twelve bestselling young adult writers (Holly Black, Ally Carter, Matt de La Peña, Gayle Forman, Jenny Han, David Levithan, Kelly Link, Myra McEntire, Rainbow Rowell, Stephanie Perkins, Laini Tayler and Kiersten White), edited by the international bestselling Stephanie Perkins.  Whether you celebrate Christmas or Hanukkah, Winter Solstice or Kwanzaa, there's something here for everyone.  So curl up by the fireplace and get cozy.  You have twelve reasons this season to stay indoors and fall in love!